Dr Rebecca Gorton outlines Sonic Healthcare UK's response to the Group A streptococcus outbreak.


A growing threat
Group A streptococcus (GAS) causes a range of infections in both adults and children, most commonly tonsillitis but also pharyngitis, impetigo, erysipelas and cellulitis.
GAS is also the etiological agent of scarlet fever, characterised by a red swollen tongue, rash, and a sore throat. In more serious cases invasive infections of the blood, lungs and sterile sites can develop (iGAS).


Rapidly increasing incidence of scarlet fever and iGAS in children

View at full screen
Figure 1. Weekly scarlet fever (a, above left) and iGAS (b, above right) notifications in England, adapted from UK HSA Group A streptococcal infections: seventh update on seasonal activity in England, 19th January 2023.

In early December 2022, UKHSA reported significantly elevated levels of scarlet fever with more than 10,000 cases in the first week, ten times higher than previous years. A similar spike was also seen in iGAS cases being reported, Figure 1a and 1b .


UKHSA alert
On 2nd December, UKHSA issued an alert to medical practitioners recommending:
1. A low threshold to consider and empirically prescribe antibiotics to children for GAS infection.
2. When indicated, a throat swab should be sent for culture.
3. GPs should maintain a low threshold for prompt referral to secondary care for children with persistent/worsening symptoms.
Increased media coverage of deaths in children from iGAS led to significant numbers of paediatric patients, in some cases exceeding 300 a day, presenting at paediatric emergency departments across the UK. This not only added to the pressure they were already under but also created supply chain challenges for antimicrobials.


How did we respond?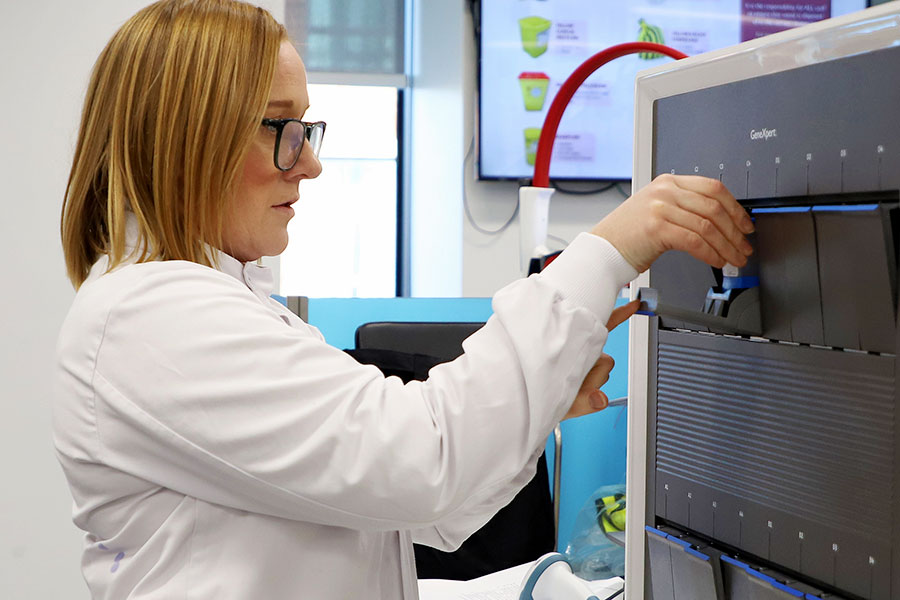 Maintained continuity of existing services Increased awareness of GAS and the guidance to GPs to send in swabs led to the labs receiving unprecedented numbers of throat swabs.
Requests for the RAPS test (GAS lateral flow antigen test used predominantly in the private sector) increased five-fold to 400 tests per week, and over 4,000 weekly requests for routine throat swabs.
The Infection Sciences team, in particular the Kiestra team based on Halo level 3, and the facilities team worked tirelessly to ensure reagent supply and continuity of service was maintained.


Implemented a new Rapid Molecular Service
A multidisciplinary team comprising Infection Sciences and Rapid Response services leads from across the group, supported by Facilities and IT, worked alongside Trust clinical leads and contracts managers to develop a rapid diagnostic solution.
This led to the Cepheid GeneXpert being deployed at the rapid response laboratories, utilising the existing infrastructure which was in place to support existing rapid respiratory virus testing.
In order to ensure effective test demand management and prevent overuse, clinical teams at each site developed testing algorithms to meet the clinical needs of their paediatric individual emergency departments.


Where are we now?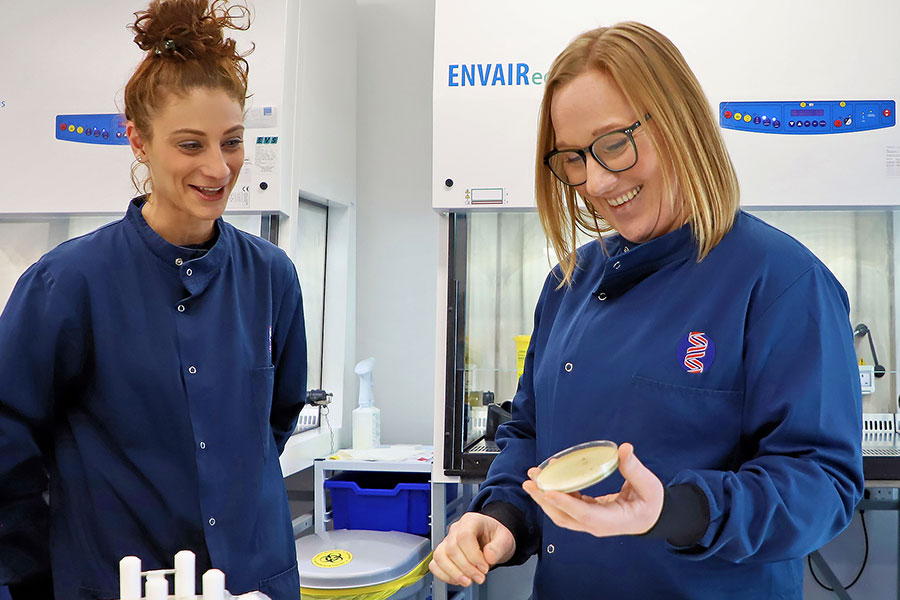 The Xpert Xpress Strep A assay was implemented within days of the initial clinical request and is embedded within the UCLH, Royal Free and Barnet rapid response laboratories, expanding the repertoire of rapid PCR based infection sciences services delivered on-site.
The availability of the Xpert Xpress Strep A assay has placed Trusts in a robust position to effectively manage surges in group A streptococcus infection.
UKHSA and affiliated research institutions continue to undertake detailed biological and genomic analysis of the most recently circulating variants to further strain lineages, either linked to previous outbreaks or novel emergence of new strains to allow us to further understand the recent outbreak.