Covid-19 Genomics UK Consortium (COG-UK) was established in April 2020 to generate SAR-CoV-2 genome data to public health agencies, healthcare providers, policy makers and government.


Snapshot of excellence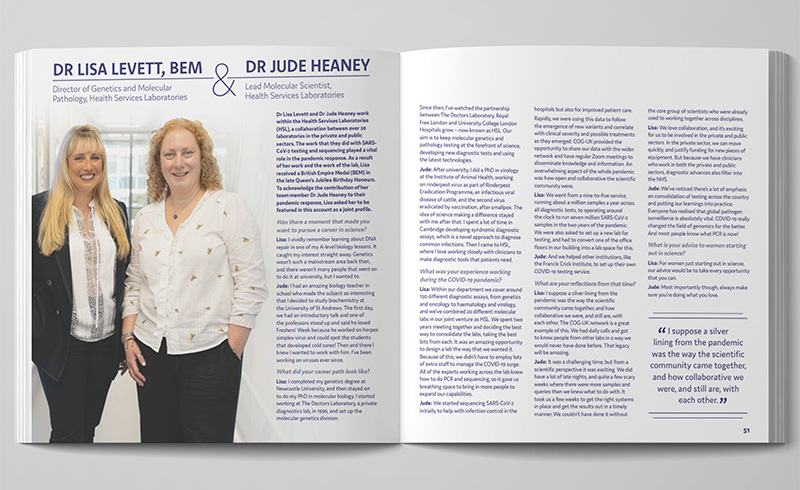 COG-UK has published a book, Snapshots of Women in the COVID-19 Genomics Consortium: Scientific Excellence During the COVID-19 Pandemic. It showcases the experiences not just of those interviewed for the monthly Women in COG interview series but also those that have helped to deliver the COG-Train global genomic training programme.
Sonic Healthcare UK's Dr Lisa Levett, Director of Genetics and Molecular Pathology, and Dr Jude Heaney, Lead Molecular Scientist were both recognised for their scientific leadership and excellence.
Jude set up Covid sequencing, making it more efficient and accurate than the published methods, and trained a team of keen MLAs to help sequence the large numbers of positive cases coming through.
This experience was very valuable for these newly trained scientists, and most have either stayed with us, obtained PhD positions, or moved to other scientific posts.
The experience gained during the pandemic was key to enhancing their career progress, and they have all been so grateful for Jude's guidance, and their experience in the molecular virology department.


Attending the launch
"Jude and I went to Cambridge University to be part of the book launch. We discussed how women in science were empowered to help in ways they hadn't done before in their everyday roles. We had some interesting discussions about how we could use these experiences from the pandemic to enhance collaborations, and improve science and diagnostics. We formed great collaborations with the Francis Crick institute and UCL, and we hope to continue these partnerships to build on future research and services."
You can see the COG-UK's Snapshots of Women in the COVID-19 Genomics Consortium here.