About HSL Biochemistry
HSL Biochemistry provides a high-quality, safe and effective service that facilitates the clinical care of patients. The service is set up across the HSL network of laboratories based on the hub-and-spoke model.
The service includes routine, high-volume biochemistry testing provided through the rapid response laboratories (RRLs) located at each associated Trust site, combined with the specialist biochemistry service delivered from the hub laboratory (The Halo building). These services are supported by fully automated and tracked instruments, comprising general chemistry and immunoassay analysers on multiple platforms.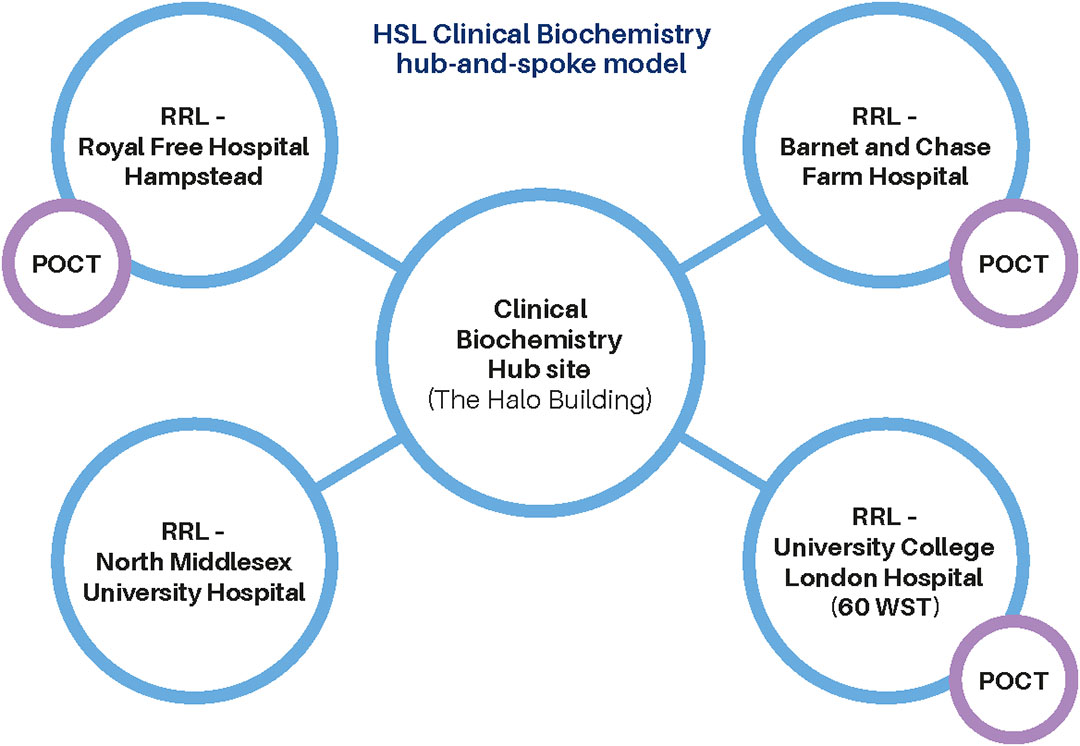 HSL Biochemistry's purpose-built laboratory at the Halo is equipped with state-of-the-art instrumentation, and has an independent pre-analytics and tracking system traversing several floors and disciplines.
The service is clinically-led and staffed by medical, scientific and support personnel providing a comprehensive analytical and advisory service. In addition to general guidance, expertise is available for steroid biochemistry and cardiovascular biomarkers through the established Supra-regional Assay Services (SAS).
Furthermore, considerable clinical and technical expertise is provided through our senior scientists for the urology and proteins sections, the latter operating collaboratively with the National Amyloidosis Centre (NAC) located at the Royal Free Hospital site.
The department manages an extensive point-of-care testing (PoCT) service implemented by scientific teams located at partner hospitals.
During core laboratory hours, a duty biochemist is available for clinical advice on test selection, interpretation and investigations. Additionally, on-call consultants can be contacted outside of core hours. Senior members of the department are always happy to discuss the needs of the users and to provide advice.
HSL Biochemistry is a UKAS Accredited Medical Laboratory No. 8169. Quality of the service is continuously monitored via a variety of quality assurance procedures. Clinical and laboratory audit programmes contribute to ongoing service review and improvement.
The department holds IBMS pre- and post-registration training approval for completion of the IBMS Registration Portfolio and Specialist Diplomas. It also has a Health Education England (HEE) recognised training programme for the laboratory aspects of Chemical Pathology and Metabolic Medicine.
Multi-professional training through a variety of HEE recognised courses is actively encouraged and promoted in order to develop a workforce required for the profession.
See Quality Management for a full list of external accreditations.